Posts Tagged 'twins'
You might expect twins to share the womb cheerfully during their mother's pregnancy, but remarkable new MRI images show fetal life isn't quite so pleasant and harmonious! Stunning MRI video shows identical twins kicking each other and fighting for space inside their mother's womb.
Categories:
LifeStyle
birth mother, fighters, fighting, identical twin babies, identical twin videos, mri machine, mri scanners, mri study, pregnancy, rivalry, twins, videos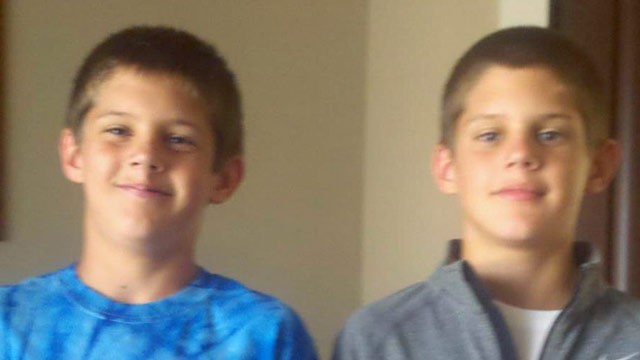 11-year-old Nate Smith from Owatonna made went to a charity hockey game with his brother Nick and father Pat Smith this Thursday. There they bought three $10 raffle tickets for a chance to hit a near-impossible hockey shot through a hole barely larger than a puck, with a prize of $50,000. Nate made the shot, but there is a catch that could cost him the big check.
Nate stepped on the ice to attempt the shot with just one goal, "At least hit the board". The shot was from 89 feet. "It's like one in a million chance." – Nate Smith. MORE
Categories:

blogs, Sports
000, 000 hockey shot, 11, 11 year old, 50, amazing, an, boy, but, cale politoski, carbonated.tv, carrier, college money, hockey, hockey association, hockey shot, insurance, insurance company, investigation, its, makes, minnesota, nate, nate smith, nathan, nick, nick smith, old, owatonna, owatonna boy, owatonna boys hockey, pat, pat smith, prize money, raffle, raffle tickets, shot, smith, Sports, the, tickets, twins, vance vinar jr., wrong, year
Photos of Mariah Carey and Her Post Baby Body Hit The Internet! 
Mariah Carey gave birth to twins way back in April, but hasn't shown off her post baby body up until now. Pics of Mariah were snapped as she arrived at her Manhattan apartment building on Wednesday, and it's the first time the public has had a glimpse of the star since the pregnancy. MORE
Categories:

blogs, Entertainment, photos
baby, baby body, body, carbonated.tv, mariah carey, mariah carey and nick cannon, mariah carey babies, mariah carey baby names, mariah carey photos, mariah carey post baby, mariah carey twins, mariah carey twins names, mariah carey twins photo, news, photos, pics, post, pregnancy, shows off, twins