Posts Tagged 'wheelchair'
"To be rich in admiration and free from envy, to rejoice greatly in the good of others, to love with such generosity of heart that your love is still a dear possession in absence or unkindness – these are the gifts which money cannot buy. "
Robert Louis Stevenson
Redditor thephonehasyettoring posted this image of a boy in his university. The kid is seen giving rides to people on the back of his wheel chair on a daily basis!
Watch the Photo
Categories:

Uncategorized
disability, disabled people, heart, kindness, photos, reddit, redditor, rides, student, university, wheelchair
This is a video of an adorable tiny dog named Beebee. This Chihuahua was born with a serious disability. She has no shoulders blades! That means she cannot put any weight on her front legs or stretch them at all!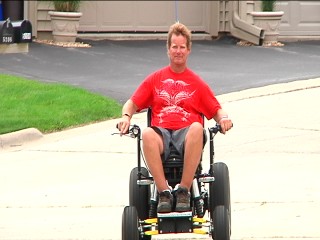 Chet Dyerson, 48, lives in Perris, California and was paralyzed chest down 11 years ago in a motocross accident. He was once struck by the idea of driving a wheelchair cross country on state Route 30. This dream is almost a possibility as he will leave the Comfort Inn on State Street at 10:00 am bound for Washington DC and he will keep pace with the traffic on a speed of 45-55 miles/hour. MORE
Categories:

blogs, LifeStyle, photos
awareness, california, carbonated.tv, chet, chet dyerson, comfort inn, current news, dc, driving a wheelchair cross country, dyerson, grocery carts, injury, journey, lifestyle, mans, motocross accident, news, newtec, paralyzed, paralyzed man, perris, president, research, route 30, spinal cord, spinal cord injury research, state, state route 30, sterilizing units, to, Washington, washington dc, wheelchair